At our meeting last Tuesday night, it was determined that these two necklaces will be presented at our Workshop with  NanC Meinhardt.
This is Deneen's Lariat.  It will be presented on Saturday, September 25 , 2010
Skill Level: All those with knowledge of peyote stitch are welcome.
Using a new "twist" together with peyote stitch, NanC Meinhardt will teach the participants of this workshop to make an elegant yet easy to accomplish necklace. This necklace is composed of off-loom beaded elements connected to each other with an innovative method of bead stringing creating a braided effect. Designed by Deneen Matson, this piece lends itself to several variations and may be modified to fit your level of expertise. Two of the options that will be demonstrated are adding a second layer of beading to your components and choosing a mix of various size beads to use in the braided sections. Bring your own creative voice into the process to make a necklace as individual as you are.
Supplies Needed:
6 tubes (7.5 grams) of Delica size 11 seed beads in two or MORE colors. I use as many as eight different colors (or more!) in the Deneen's Necklaces I make for myself. The colors may be either in subtle or high contrast.

Fireline 6 lb. test or Silamide A beading thread

Size 11 beading needles

Beeswax or Micro wax

Magnifying glasses or visor if needed (seeing is very important!)

Small scissors

Mat for a working surface

Extra light and extension cord if needed

Magnifying glasses or visor if needed

Thread Zapper (optional)

Thread Winders (optional)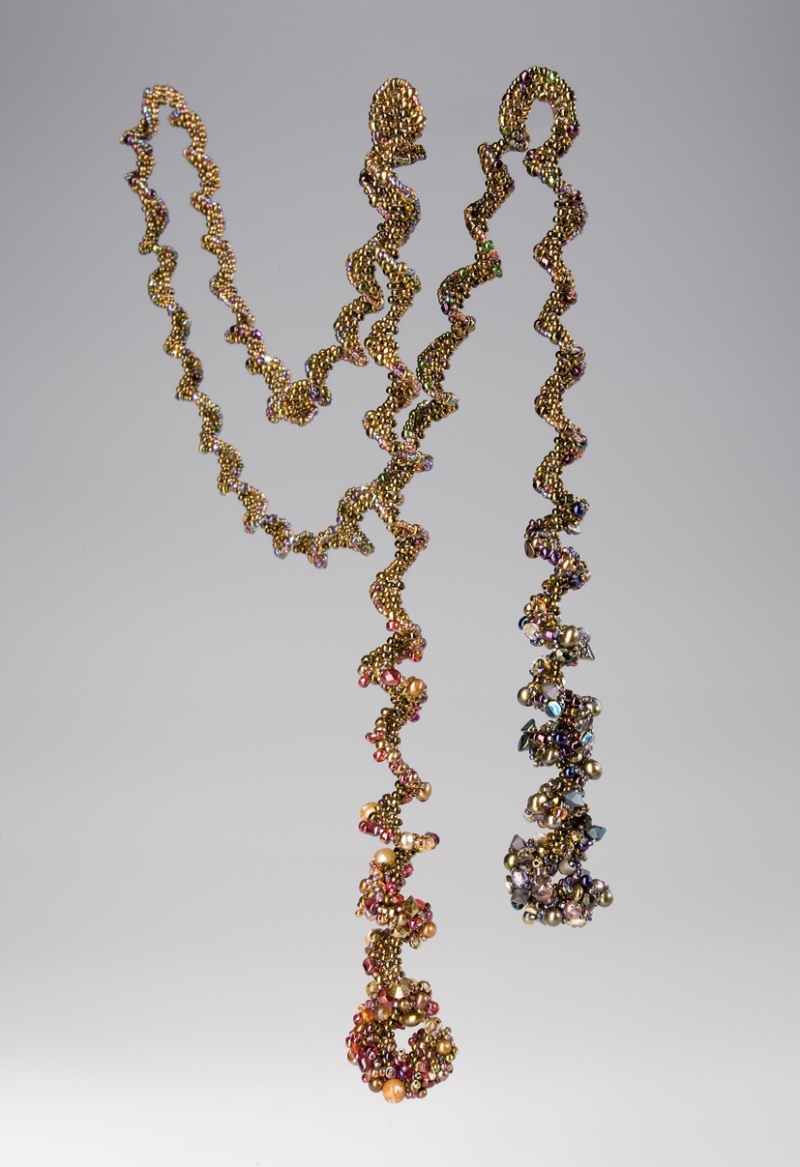 This is Rapunzel and will be presented on Sunday, September 26, 2010
Open to all skill levels
"Rapunzel, Rapunzel, let down your hair…or at least your beads!" Learn NanC Meinhardt's amazing way to start flat peyote, and then learn how she builds in an increase right into the foundation row. Enjoy spending a day creating a spiraling, swirling, twirling cascade of peyote stitch ending in a burst of encrusted curl. No need to close your lariat with a knot, as the spiraling curl twists upon itself to form its own closure. Would Rapunzel trade in her beautiful curls for this beaded version?? You bet!
Supplies Needed:
My supply list is to be considered as a list of suggestions rather than a list of "must haves". In most of the Rapunzel lariats I have made, I used a wider selection of colors of all the seed beads than I mention in this supply list. You are free to add as much variety to the supplies as you wish. Have fun putting all the colors and beads together!
20 grams each of three colors of size 11 seed beads. Use two colors that "blend" together creating an effect of one color shaded into the next.

20 grams each of three colors of size 14 seed beads. These can either contrast with the size 11s or continue in the same palette.

20 grams each of two colors of size 8 seed beads. These may either contrast or blend with all previous choices.

Optional: 1/2 hank size 13 charlottes. To be used as part of the embellishment beads.
Embellishment bead suggestions: ½ strand each of two colors of fresh water pearls, ½ strand of center drilled keshi pearls, 3mm and 4mm crystals or firepolish, a couple of 5mm crystals or firepolish, a "smattering" of colors of size 8 seed beads and/or size 10 triangles. In fact, the object here is to choose anything that is lush, extravagant and that pleases you!
Size 11 and 12 beading needles

Beading thread of your choice

Beading surface

Task light and extension cord

Magnifying glasses or visor
If you have given the Treasurer your check for either of these two classes or for both and have changed your mind since, you are to contact our Treasurer, Christy, by phone or e-mail prior to August 10, 2010.